Looking for an exciting and unique online slot game experience? Look no further than the Ugga Bugga Slot Machine. This jungle-themed slot game by Playtech has been entertaining players since 2013, with its unusual design and gameplay mechanism. With 10 paylines spread across 10 independent reels, the game offers a different twist to the traditional slot game setup.
What Is The Ugga Bugga Slot Machine?
Created by the well-known online casino game developer, Playtech, the Ugga Bugga slot game features a jungle theme, complete with tribal warriors and artefacts. The game works a bit like a video poker game, where players form winning combinations of symbols and even get to choose which symbols to hold or release, adding a strategic element to the game.
The Ugga Bugga slot machine game has a return to player (RTP) of a whopping 99.07%, making it one of the highest RTP slots available online. The game's low volatility means that although wins may be frequent, they are generally smaller in size.
What Does The Ugga Bugga Slot Machine Look Like?
The Ugga Bugga slot game is visually appealing, designed to transport players to a tropical jungle. The game's symbols include bongos, tropical fruits, and tribal artefacts. The game's layout and mechanism are quite unique. When you hit the 'Spin' button, only the bottom-left reels spin initially. Players then have the option to 'hold' one, two, or three of the symbols, which then appear in every set of reels on the screen.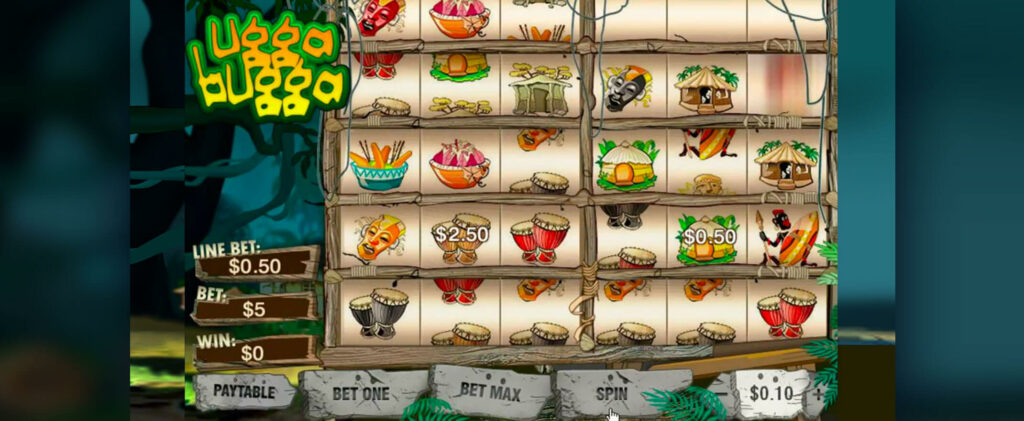 Where Can You Play The Ugga Bugga Slot Machine?
The Ugga Bugga slot machine game can be found on various online casino sites. However, due to recent updates to the game's technology, the slot game has become increasingly hard to find. Despite this, there are still many other exciting slot games with similar high RTP percentages available online.
For example, you can try out the Frankie Detorri Magic Seven, Mega Joker, or Ji Xiang 8 slot games, all of which have an RTP of 99%. There is also a wide array of progressive jackpot games to choose from, with daily and weekly winners to the rare seven-figure jackpots.
How To Play The Ugga Bugga Slot Machine
The Ugga Bugga slot game, despite its unique game mechanism, is quite easy to play. Here's how:
Place Your Bet: You can set your total bet between £0.01 and £10 per line. The game allows you to Bet One, Bet Two, or Bet Max lines, making your total bet between 0.10 and £100.
Spin: After placing your bet, hit the spin button. Three icons will land in the bottom left payline.
Hold: If there is an icon that the game suggests you hold, this will be highlighted in yellow. You can hold any of the icons, and then spin again. The held icons will then spread across all paylines, replicating the held icons. The empty spots will then fill with fresh icons and all winning combinations will be paid.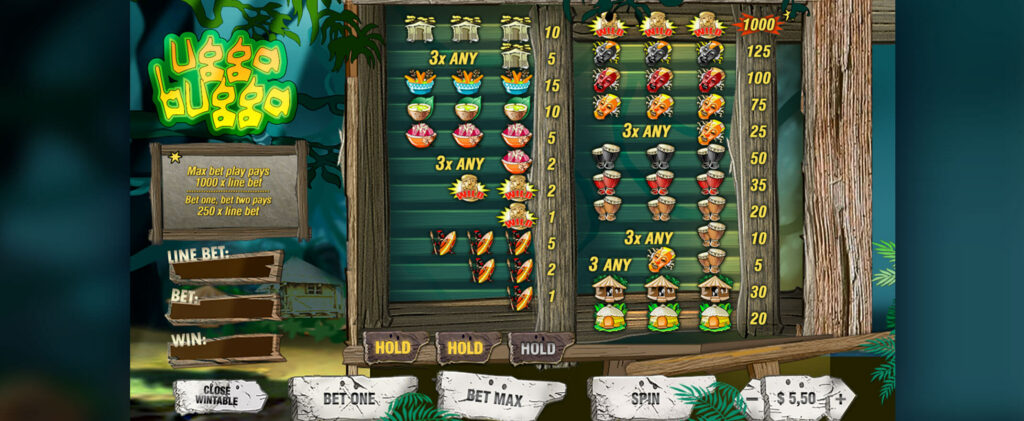 Finding The Ugga Bugga Slot Machine In Las Vegas
While the Ugga Bugga slot game is primarily an online game, players who prefer the brick-and-mortar casino experience might be able to find it in Las Vegas casinos. However, availability may vary depending on the casino. It's always best to check with the casino's customer service for the most accurate information.
Our Ugga Bugga Slot Review
The Ugga Bugga slot game offers a unique and exciting gaming experience to all its players. With its unusual design, high RTP, and the addition of a strategic element to gameplay, it's no wonder that this game has been a favourite amongst slot game enthusiasts since its release.
However, the game isn't for everyone. High rollers might find the game's betting range limiting, and players who enjoy bonus rounds and feature action might be disappointed. But for players who enjoy a strategic element in their slot games and appreciate a high RTP, the Ugga Bugga slot game is definitely worth a try.
Whether you're a seasoned player or a newbie to the world of online slot games, the Ugga Bugga slot game offers you a chance to bring a little strategy into your gameplay while enjoying a visually stimulating and entertaining gaming experience.